Malin Head Walking Tour
Malin Head is an iconic location that is rich in history, culture, flora, fauna and marine heritage. As such, it goes way beyond the planet Ahch-to, as shown in The Last Jedi (Disney 2017). However, Malin Head more than a Star Wars movie location, this is an iconic location the transcends, space, time and even the Millennium Falcon. This walking tour will transform your understanding of Malin Head, it's cultural and natural heritage, plus its importance as a Star Wars film location in Ireland. Bren Whelan, is a qualified Failte Ireland tour guide with Worldwide movie and tour guiding experience, he worked personally at this Star Wars location in Ireland and during the filming was responsible for the personal safety of Mark Hamill and Daisy Ridley.
Enquire Now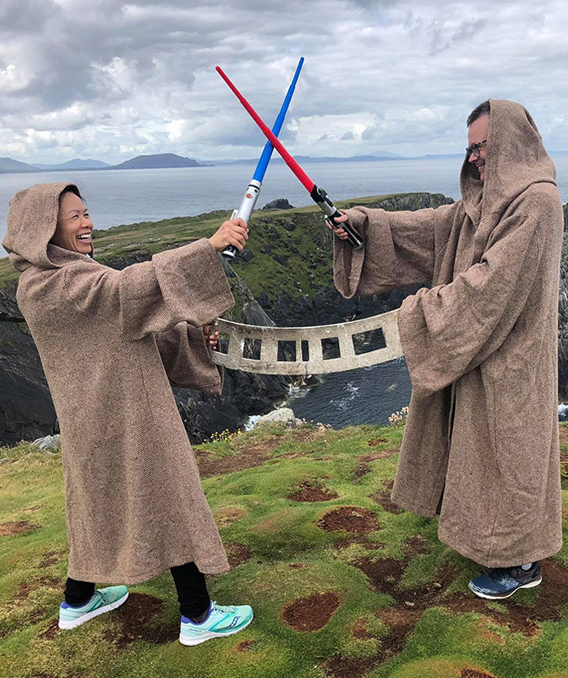 Did you know? That Donegal was voted by National Geographic as the 'Coolest Place on the Planet to visit' and our tour visits the location that National Geographic used for their print cover image (we featured on the cover!) for the Donegal special edition.
Time:3 hours
Age:Suitability from 8 years +
Distance to walk:4km kilometres
Grade:Easy to Moderate, this walk takes place along an exposed cliff edge with steep drops to the ocean. Our tour is the most informative tour available and gives you a superb insight into the "Planet Ahch-to".
Cost:Starting at €40
*Please note: Bren Whelan / Donegal Climbing / MountainTraining.ie is in NO way associated with Disney / Lucas Films*
**Please note that access within the movie site is not available, due to the land being private, this is a very recent change, we still run an amazing tour and all tours are given the best insight into this area and the movie**

Testimonial
What Our Visitors Say

"WOW we so totally loved the Star Wars tour with Bren. He is such a cool, kind and knowledgeable guy! The tour was so diverse, with a bit of history, legends, and star wars anecdotes which made it so special. We drove this far up North specifically to do this tour, and it was an absolute highlight of our trip. The scenery is truly breathtaking, and Bren adds so much flavour and meaning into wandering around. I can only recommend that you do this tour if you have the chance. "
Zsuzsanna Mueller
Posted September 2019
Get The Exclusive
Updates Into Your Inbox!
Enter your information below to stay up to date on our
latest news, offers, and events: