Ultimate Adventure
Rated by National Geographic as one of Donegal's top adventure activities, this really is an 'Ultimate Adventure' !
Come join us on a magical journey to the outer reaches of Ireland's Wild Atlantic Way! We take you on a fantastic ridge walk  across the narrows of Inishowen Head, from here we walk, hike, scramble, climb and abseil downwards to the magical Atlantic Ocean, where the views are stunning!
Abseil down to hidden coves, pass beautiful sea stacks and enter into a secret sea cave surrounded by seals, sea birds, sometimes dolphins and sharks too (basking that is!) and journey under the Wild Atlantic Way, yes, we are going under and into a truly fantastic and hidden series of caves and chambers…and this is only the half way point!
*This an excellent alternative to our rock climbing tours, especially when the weather is slightly less favourable. **Hillwalking boots are required.
BOOK NOW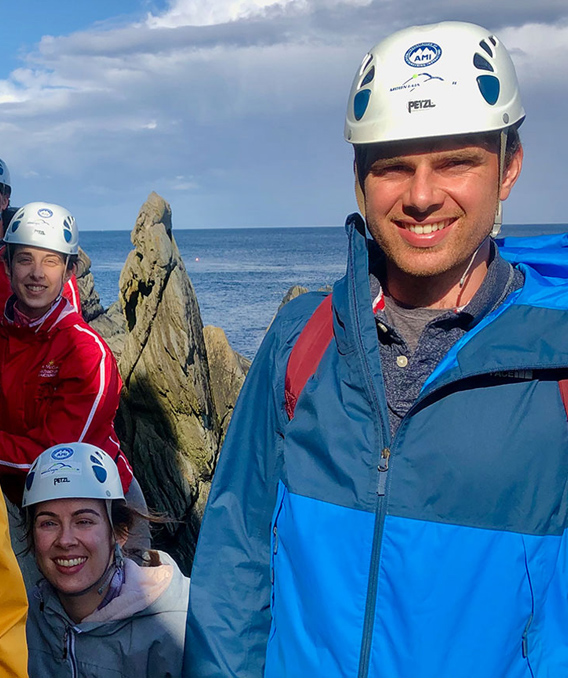 Time:Half-day
Age:Suitability from 11 years +
Distance to walk:3km kilometres
Grade:Moderate to Severe. The 'Ultimate Adventure' scrambling, rock climbing and abseiling activities take place along exposed cliff faces with stunning East Donegal Atlantic Ocean backdrops. During this tour you will learn essential movement, and rock climbing safety skills while enjoying a broad mix of under and over ground outdoor environments. With over eleven hundred kilometres of coastline, Donegal is a mecca for coastal adventure activities, and the county has the most diverse range of coastal features in Ireland.
Cost:From €55
*Guides/Instructor information: Bren Whelan / Donegal Climbing / MountainTraining.ie is a member of the Association of Mountaineering Instructors and a full Winter Mountaineering & Climbing Instructor (WMCI)*
**Tides: The timing of this tour is tide dependent, we will do our utmost to match your preferred tour time with the tide cycles**

Testimonial
What Our Visitors Say

"We did the Ultimate Adventure with Bren in Shroove on Friday, 10 September 2021. Bren had contacted me in advance in relation to timing of our trip and the optimal weather conditions.
We followed trails up and down cliff edges (walking, climbing and abseiling) and he brought us to a hidden cave and secret beach. We felt very safe with the equipment and Bren was constantly reminding us of safety tips. He also very informative on the local wildlife and environment and had some cool stories about his different climbing experiences over the years. We were with Bren for nearly 4 hours and felt very comfortable chatting.
We picked this adventure as it was something different and it did not disappoint. For those who would like to explore the Irish coastline and beautiful Donegal, this adventure trip is great value for money and we would highly recommend contacting Bren whether it is for a couples trip (like ours) or an adventure trip with family or friends.
Last thing, we would recommend hiking boots!"
Julianne Nicholas
Posted September 2021
Get The Exclusive
Updates Into Your Inbox!
Enter your information below to stay up to date on our
latest news, offers, and events: