Rock Skills
Mountain Skills
Mountain Skills (MS) training provides an introduction to hillwalking in Ireland. The scheme offers a solid foundation in the basics of mountain navigation, plus a personal proficiency in hillwalking/mountaineering skills. The MS scheme is split into three parts, the MS 1 and MS2 training blocks are each 2-days in duration, and the final MS Assessment takes a further 2-days.
REGISTER NOW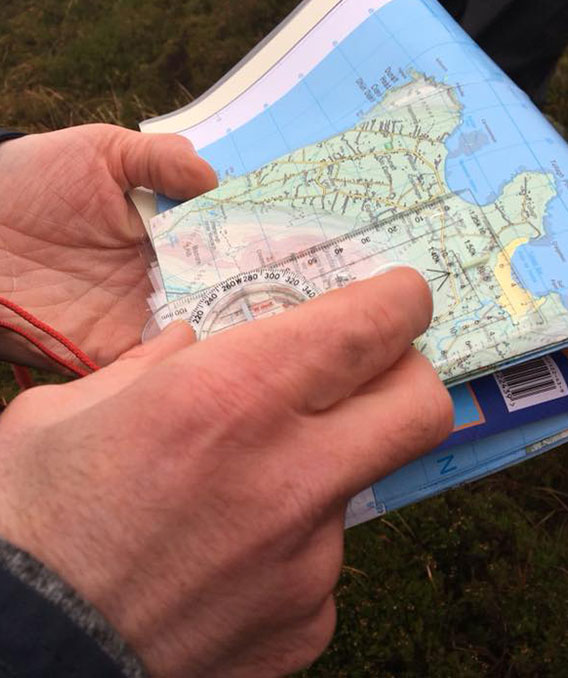 Mountain Skills training teaches the following skills:
Map reading
Compass skills
Mountain safety
Navigation planning and techniques for day navigation
Mountain rescue knowledge
Mountain hazards knowledge
Mountain weather forecasting
Risk assessment for hillwalking
Personal equipment for hillwalking
Leave No Trace environmental awareness
Access and responsibility for hillwalking
Night navigation (Mountain Skills 2 only)
Personal movement on steep ground (Mountain Skills 2 only)
Having undergone Mountain Skills training, a person may be in a position to safely, and competently, take to the hills. Mountain Skills training and assessment also provide the foundational training for those who wish to progress to the Mountain Leader (ML) award.
There is no requirement to join Mountaineering Ireland, but there is a cheaper membership offer of €30 at the point of registration, should you wish to join.
Successful completion of the Mountain Skills Assessment is a register requirement for the Mountain Leader Award.
Completion of Mountain Skills training part 1 or 2 is one way to access registration for the Lowland Leader Award.
Registration
You must register for the Mountain Skills scheme via Mountaineering Ireland (this is separate to booking a training course). One off registration with Mountaineering Ireland is free for under 18s and €22 for adults. This fee contributes towards the administration and quality assurance of the Mountain Skills Scheme, gives you access to DLOG (a digital logbook for recording your activities) and material to help you develop as a hill walker.  If you are already a member of Mountaineering Ireland and register for the scheme, details of your training and assessment will be automatically updated on your DLOG.
REGISTER NOW

Testimonial
What Our Visitors Say

"Brendan was our instructor and this was one of the best activities I've taken part in in Ireland. We were pushed to try all the different climbs, and guided the whole way.
The whole experience was professional but relaxed at the same time. Brendan was very knowledgeable about the area, meaning we learned a lot about the history of Malin Head.
It was a fantastic day out, and I would highly recommend to anyone visiting Malin Head."
Saoirse Ankers
Posted August 2021
Get The Exclusive
Updates Into Your Inbox!
Enter your information below to stay up to date on our
latest news, offers, and events: