Rock climbing instructor
The Rock Climbing Instructor qualification trains (3-days) and assesses (2-days) experienced rock climbers to instruct climbing in the UK & Ireland. The award is focused on supervising safe climbing and abseiling sessions on single pitch crags and artificial structures. The Rock Climbing Instructor training covers personal climbing, safe group management, crag etiquette, environmental responsibilities and more. Candidates will learn how to become an effective supervisor, encouraging others to enjoy climbing safely, whilst also improving their own climbing skills. A single pitch route is defined as one which is climbed without intermediate stances, is described as single pitch in guidebooks, allows climbers to be lowered to the ground at all times, in non-tidal and non-serious locations that have little objective danger, presenting no difficulties on approach or retreat
View the Rock Climbing Instructor Skills Check List Here

Registering for the Rock Climbing Instructor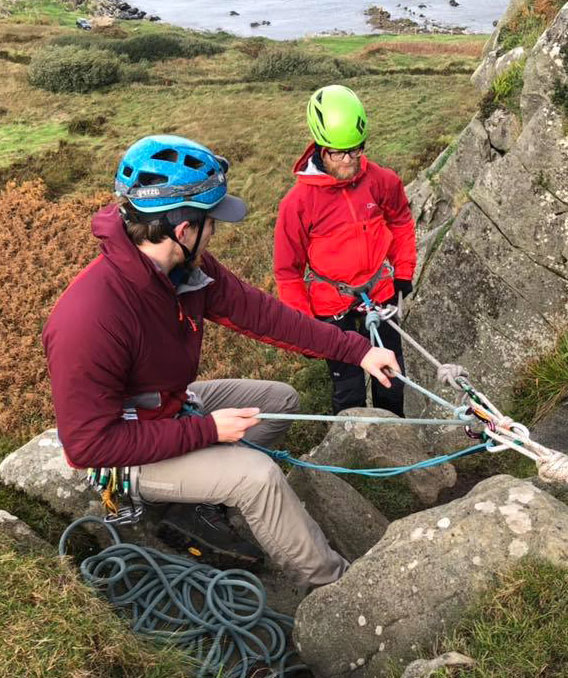 Before registration candidates must:
Be at least 18 years old?
Be a current member of one of the Mountaineering Councils; Mountaineering Ireland, the British Mountaineering Council or Mountaineering Scotland.
Be an experienced indoor and outdoor rock climber.
Have a genuine interest in climbing and the supervision of groups.
Have led at least 15 routes which must be graded rock climbs with traditional protection.
Have led at least 15 routes at a climbing wall.
Have led at least 5 routes which must be on outdoor bolt protected sport climbs.
*Mountain Training Ireland and UK, recognises that changes to the prerequisites present challenges for those who have already completed their Single Pitch Award Training and wish to attend a Rock Climbing Instructor assessment. Leeway was given on the outdoor sport climbing requirement for Rock Climbing Instructor assessment for those who have already completed their Single Pitch Award training until 31st December 2018. From 1st January 2019, all of the prerequisites of the scheme will have to be met by all Rock Climbing Instructor candidates.

Testimonial
What Our Visitors Say

"Wonderful, challenging weekend walking & fine tuning navigation skills in the Urris hills & bogs of Inishowen, Donegal, under the watchful eye & excellent tuition of trainer Bren Whelan"
Susanna Carr
Posted January 2022
Get The Exclusive
Updates Into Your Inbox!
Enter your information below to stay up to date on our
latest news, offers, and events: